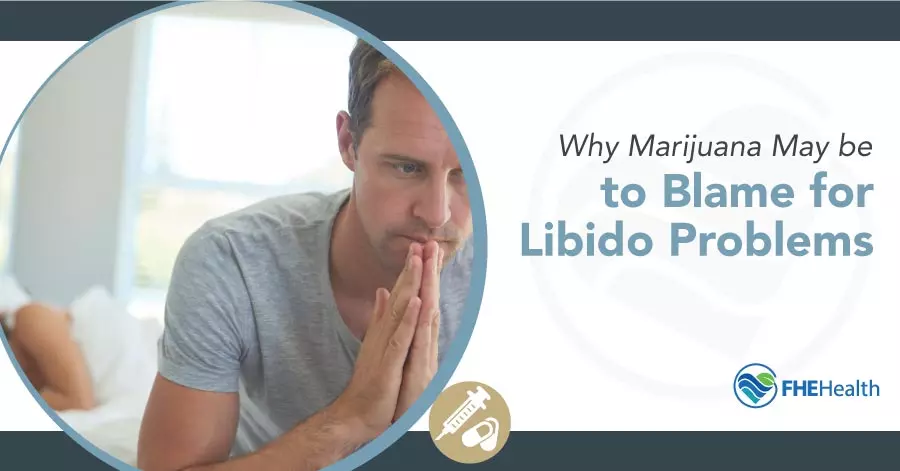 Jack enjoys partying with his friends. They all appreciate his mellow demeanor, but they don't know that he and his girlfriend are struggling in one area — the bedroom. Danielle, Jack's girlfriend, has noticed that he really isn't there in the bedroom any longer. They aren't enjoying intimacy as much as they did before his buddy introduced him to marijuana.
Soon, the couple realizes that Jack's marijuana use is playing a role in his lack of libido. They talk about what options they have, and Jack realizes he needs to get clean. It's going to be a tough road for him, but he has the support of his family members and his girlfriend, so he knows he can do it as long as he uses a proven program.
Jack starts his journey toward recovery. While he doesn't return to normal in the bedroom right away, he and Danielle slowly start to notice that things are improving. They decide they're going to work together to help Jack stay away from marijuana so they can continue to enjoy the benefits in the bedroom, as well as in other areas of their life together.
How Does Marijuana Impact the Body?
Marijuana is the most widely used psychotropic drug in this country after alcohol. Using this drug isn't limited to adults; adolescents and young adults also use it, and marijuana use is more prevalent among men than women. Many of these individuals don't realize the vast impact that marijuana has on the body.
A study of 1,023 admitted shock trauma patients showed that one-third had marijuana in their system. It's believed that the impact is greater for people who begin to use marijuana as adolescents because the drug impacts coordination, emotions, perceptions, vision and hearing.
All these impacts can affect adults as well and lead to issues with sexual health and other areas of life. Some of the other impacts marijuana use can have include:
Mood changes
Body movement impairment
Memory trouble
Psychosis
Delusions or paranoia
Altered sense of time
Reduction or changes in sensations
Trouble thinking
Breathing trouble
Increased heart rate
Gastrointestinal trouble
Bloodshot eyes
Sleepiness
Dry throat, mouth and mucus membranes
Reduction in coordination
What Impact Does Marijuana Have on a Man's Sexual Health?
Marijuana use can lead to a host of negative sexual health implications, especially for men. The potential long-term effects can include decreased or nonexistent sexual pleasure. This can make men not want to enjoy intimate moments with their significant other.
Individuals might not have the same sensations when they're touched because marijuana dulls the senses. This can lead to frustration in the bedroom because a man might feel aroused but not be able to find any satisfactory relief from the arousal.
In men, the use of marijuana can also lead to a decrease in testosterone levels. They may be unable to conceive children because of a lowered sperm count. Daily use of marijuana may make it difficult to impossible for a man to reach orgasm during intimate activity. This could be due to a hormone imbalance, which is also associated with the growth of enlarged breasts in men who regularly use marijuana.
Some men experience erectile dysfunction when they use marijuana. This means they can't get or keep an erection. This can make trying to have intimate relations frustrating for both partners. It's possible that marijuana use may not be the only cause of the erectile dysfunction; however, it should be considered as a factor if a man is using marijuana on a regular basis.
Interestingly, men may not be able to turn to some common methods for improving sexual health if they're using marijuana. Testosterone boosters might not work as they should. A paper published in Clinical Cardiology in 2006 found that men who use marijuana regularly can't metabolize Viagra, the drug commonly used to address erectile dysfunction. This puts a man at risk of suffering from heart problems because of it.
Typically, a woman's biggest sexual challenge due to marijuana use is the lack of moisture in the mucus membranes, which means she may have to use a personal lubricant. Marijuana usage may also mean that she doesn't have the sensations when touched that she did before she started using.
What Makes It Hard to Quit Marijuana to Improve Your Libido?
Some individuals use marijuana to help them get through their daily activities, but this may only be because they need assistance coping with an underlying issue. Such issues may include trauma from past abuse, post-traumatic stress disorder, depression, anxiety or a host of other mental health challenges. While it may be easy to just pick up marijuana, you'll likely find greater relief if you get sober and work to address those other problems.
There's a chance your social life might also suffer if you quit marijuana. Your friends may struggle with the fact that you've gotten sober, and some might be unwilling to try to enjoy doing things without marijuana present. It takes a lot of personal strength to be around marijuana without using it, and this can making quitting difficult for some people.
How Can FHE Health Help?
Deciding to stop using marijuana is the first step toward recovery and reclaiming your libido. This journey might not be as easy as you think, so it will help to have people on your side who can step in and provide support as you take this journey. The team at FHE Health is here to help you find methods that work for you. This can mean you'll slowly notice positive changes in the bedroom.
When you make the decision to move toward sobriety, there's a good chance you're going to realize you should reach out for help. FHE Health's trusted counselors can work with you to address your struggles and develop a recovery plan. Give us a call at (833) 596-3502 to get started on your journey to sobriety and improved libido.
Reference: https://www.healthline.com/health/erectile-dysfunction/is-smoking-weed-good-or-bad-for-ed#marijuana-and-other-medications