Is depression a disability? Ask anyone suffering a severe depression episode, in which they can't get out of bed or see themselves living even one more day, and you're sure to see just how impactful this mental health condition can be on daily life. However, to qualify for Social Security disability, a person must meet specific criteria set by the Social Security Administration.
What Is Disability?
Social Security Disability (SSD) provides financial support for people who are unable to work. A person may have a disease or disability that makes it impossible for them to work using the skills they have.
A person with cancer, for example, may be too weak to work. In this situation, the Social Security Administration determines that the individual is medically unable to work, approves them for disability payments and starts sending monthly payments to help provide for their financial needs.
Being ill for a few days, however, doesn't count. The SSA states a person must be unable to perform "substantial" work as a result of having some type of physical or mental impairment that meets their requirements, and that the condition must be expected to last 12 months or longer or may result in death.
The SSA determines substantial gainful activity based on how much a person with this condition can earn. For non-blind individuals, that amount is $1,260 per month for 2020. This figure changes each year but is always updated on the SSA website.
SSD is considered a safety net. It's there to support people who can't work enough to meet their financial needs. It's not a quick and easy payout, nor is it easy to obtain.
What Are SSD Benefits?
In 1956, amendments to the Social Security Act created SSD, an insurance program paid into by workers throughout their working history. It aimed to provide support for physically disabled workers between the ages of 50 and 60.
Today, the program is different. It covers both physical and mental disabilities and more age groups.
As noted, SSD provides monthly income to qualified recipients to meet their financial needs. The amount received is dependent on many factors, including the amount you've paid into the SSA over the years through your work.
Most people pay into the SSA through Social Security taxes. You'll see these taxes removed from your paycheck by your employer.
SSD shouldn't be confused with Supplemental Security Income. This is paid to disabled people who are also low-income individuals who have never worked, and it's needs-based.
SSI doesn't require a work history to qualify, but your household income must be below the threshold that's set annually. It also considers your assets.
How Does This Apply to a Person With Depression?
The National Institute of Mental Health estimates that, in 2016, 17.3 million U.S. adults experienced at least one depressive episode. That's a significant number of people suffering from this condition. Not all will qualify for SSD.
For some people, depression can inflict serious damage on daily life, making it quite difficult to manage a job or even secure employment. Considering this, it seems that it should be possible to qualify for depression disability from the SSA.
How to Get Disability for Depression – What Are the Requirements?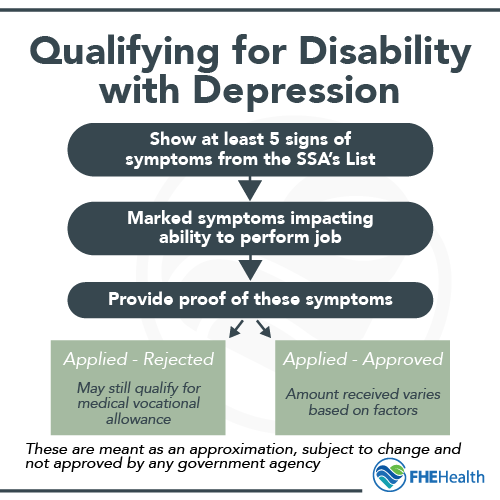 To get disability for depression, you must meet specific criteria listed in the SSA's impairment listing manual. It's also possible to be granted a medical-vocational allowance if the severity of the condition is significant and you meet other qualifications. You can read through the SSA's impairment rules for mental disorders.
The impairment rules list a number of specific symptoms a person must have to meet these qualifications. For example, you must have at least five of the following, according to the SSA:
Decreased interest in most activities
A depressed mood
Sleep problems, including sleeping too much or suffering from insomnia
Lack of appetite control, either eating too much or eating too little, that results in weight changes
Trouble concentrating or focusing on tasks
Feelings of guilt, worthlessness or other negative self-worth thoughts
Attempts at or thoughts of suicide or a focus on death
Changes to your physical abilities, such as slower speech patterns, handwringing, pacing or increased agitation
For those with at least five of those diagnosable symptoms, it may be possible to qualify if you meet the following functional criteria. Specifically, you must show that you have lost abilities as a result of having depression. This means providing proof of extreme limitation in areas such as the following:
Difficulty understanding instructions, inability to apply new information to tasks, poor judgment during decision-making and the inability to learn new things
Inability to use socially acceptable behavior during work-related activities, inability to work with or interact with others
Inability to perform tasks due to concentration issues or inability to maintain pace OR being unable to manage oneself, such as being unable to maintain hygiene, dress properly and cook
A person must demonstrate "marked" limitation in two of those three areas. The term "marked" means that their limitations are more severe than moderate, therefore, seriously limiting, but that doesn't mean a complete loss of ability.
If you meet these requirements, you may be able to apply through the SSA to obtain benefits. If you do apply and are denied, you may qualify for medical-vocational allowance.
In this case, the SSA determines how your symptoms of depression impact your ability to do unskilled work. To make this determination, the SSA considers:
How well you can carry out simple instructions
Whether you respond to supervisors and coworkers properly
Your ability to make decisions in a work environment
Whether you can adapt to changes in routine
It's important to note that applying for disability as a sole qualification is difficult. You must be able to show that the depression is severe enough that you can't work. For those who also have a physical impairment or another type of mental health impairment, it may be easier to qualify for SSD.
Defining Depression – Do You Have a Condition That Warrants Disability?
How do you know if you can qualify for depression disability? Your first step is to meet with a mental health provider to ensure you can be diagnosed with clinical depression. This requires a full evaluation of what you're experiencing, how long it's occurred, and why it may be present.
There are various diagnosable levels of depression. Your counselors help to determine what form of depression you have and its severity. To be diagnosed with any form, you must have symptoms that have been present for at least two weeks. Some of the most common forms of depression are:
Persistent Depressive Disorder: A person with a depressed mood that has remained for at least two years may be labeled as having this condition, sometimes known as dysthymia. This includes periods of major depression and times when symptoms are less severe.
Psychotic Depression: This type of depression has some form of psychosis along with depressive symptoms. This may include fixed beliefs and hallucinations. Delusions may focus on illness, poverty or guilt, for example.
Bipolar Disorder: Though different from depression, this type of diagnosable condition has periods of extremely high and extremely low moods.
Major Depression: This is a classic type of depression in which a person is in an all-consuming, negative mood and has lost interest in most activities. Thoughts of self-harm are common. Some people see improvement with medications but may still experience reduced energy, difficulty sleeping and feelings of being worthless.
Do You Qualify for SSD?
If you've been diagnosed with any of these forms of depression, you may qualify for SSD. However, you need to work through the application and ensure that your doctors and therapists are helping you to provide evidence.
Keep in mind that being denied disability for depression doesn't invalidate the reality of your condition. It's still very much a component of your life. One step you can take to improve your life is to seek immediate help through inpatient care.
Seek Help for Depression at FHE Health
Our compassionate counselors are happy to answer questions about your qualifications for care at FHE Health for depression. Call us 24 hours a day at 833-596-3502.