Our knowledge about alcohol and its effects has changed a lot over time. Drinking alcohol has been legal in the United States for those who are over the legal age since the end of Prohibition in the 1930s, and since then, alcohol has been regarded, generally, as safe.
Yes, drinking has been considered a vice for centuries, but this applies more to alcoholism than the substance itself. Consumption of alcohol has been looked at as a practice with little-to-no long-term side effects on the brain.
Recently, however, this thinking has changed. In this piece, we'll look at some of the long-term consequences of alcohol consumption and why they should reframe discussions about alcohol and the brain.
Short-Term Effects of Alcohol on the Brain
Alcohol's effects on the brain in the short term take place during consumption, as well as after a period of drinking. As you consume more alcohol, the way the alcohol is processed by the body affects your brain.
In the early stages, alcohol molecules bind to receptors in the brain, stimulating the release of dopamine, a neurotransmitter that makes you feel pleasure. This is why drinking is seen as an enjoyable activity — a way to "take the edge off." It dulls the brain's pain receptors and relieves stress.
As drinking continues, alcohol has negative effects on the function of the brain's major sectors. The frontal lobe, parietal lobe, temporal lobe and occipital lobe start to lose functionality, leading to impaired speech, motor and decision-making ability. As consumption increases, it affects the hippocampus, the part of the brain that controls memory creation and storage, resulting in a phenomenon commonly known as a blackout.
Immediately after a period of heavy drinking, you can notice the effects on the brain. Some people experience residual dizziness, confusion, headache and other clearly neurological side effects of alcohol.
How Alcohol Affects the Body in the Long Term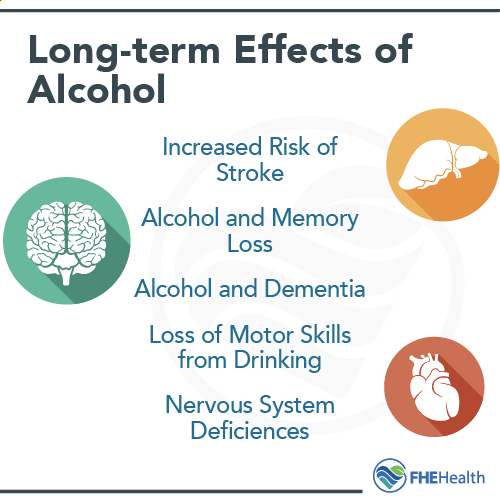 Previously, it was thought that despite many people engaging in the kind of short-term drinking that seriously impacts the brain, the damage was only temporary. The only real dangers of long-term drinking were thought to be on the liver, the organ that filters and processes the alcohol during consumption, and with the onset of dependence and addiction.
More recent evidence suggests that the risks are more extensive than just these. Here are a few of the worrying long-term effects of alcohol on the brain.
Increased Risk of Stroke From Drinking
A stroke is when brain cells die due to a sudden lack of oxygen. It can involve permanent brain damage. Because of several physical effects that alcohol consumption has on the body — including blood pressure increase and diabetes — long-term drinking can increase a person's risk of experiencing at least one stroke by an estimated 50%, according to the British Stroke Association.
Alcohol and Memory Loss
Short-term drinking isn't the only behavior that negatively impacts the hippocampus. Studies show that long-term consumption may cause tissue loss in this part of the brain, which can lead to long-term memory dysfunction.
Alcohol and Dementia
More than simply memory loss, there's a correlation between developing dementia — including Alzheimer's disease — and long-term drinking. Studies showed a link between binge-drinking sessions and the eventuality that a person will suffer from dementia later in life.
Loss of Motor Skills From Drinking
The part of the brain that controls fine motor function can be damaged by long-term heavy consumption of alcohol. Many alcoholics suffer from what's called an "essential tremor" due to this side effect.
Nervous System Deficiencies
Because it's the pilot of the central nervous system, any long-term damage to the brain can have far-reaching effects in the body. Loss of feeling in the extremities and nerve damage impacting sexual and emotional wellness are thought to be common in people who engage in heavy drinking over prolonged periods of time.
Long-term sustained periods of drinking can also increase the risk of physical diseases that affect the brain, such as cancer, and co-occurring disorders that affect the brain even more. Some of these include comorbidity with other substance abuse issues and mental health issues like depression, anxiety, phobias and eating disorders.
Different Effects for Different People
Of course, this doesn't mean that if you have one drink, you'll suddenly be at risk for these sources of damage. Different people are affected in different ways, and much of this is guided by preexisting conditions or risk. For example, if you're genetically predisposed to high blood pressure and you drink heavily, your likelihood of having a stroke is higher than someone who drinks the same amount without the same preexisting risk.
These examples are just to give you an idea of the lasting damage of heavy drinking, even when drinking only happens over the course of a few years. In the United States, drinking is a big part of college culture, but even a few years of heavy drinking can greatly increase a person's risk of long-term effects on the brain.
Can You Recover from Alcohol-Induced Brain Damage?
In large part, damage done to the brain by alcohol is permanent, a discovery that has more and more people experimenting with their sobriety. However, improvement in these conditions can be achieved the longer sobriety continues. The problem is that many people who drink for extended periods of time find it difficult to quit.
After addiction sets in, quitting alcohol comes with the extremely uncomfortable symptoms of physical withdrawal as well as an unbearable urge to continue drinking. This means that those for whom drinking has become a normal, routine part of life will never see these effects on the brain improve.
Alcohol Treatment at FHE Health
Learning about the long-term effects of alcohol on the brain can be surprising to anyone who has previously thought of alcohol consumption as a relatively safe way to cope with stress. If you or a loved one is having trouble abstaining from alcohol, FHE Health can offer help. Contact us today and learn about your options.