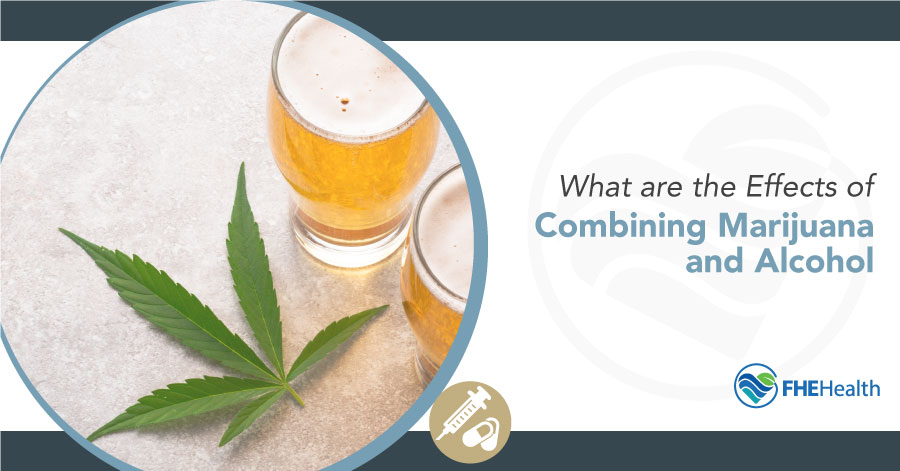 Marijuana and alcohol are among the most commonly used substances in the nation, with about two-thirds of those aged 18 and over consuming at least one alcoholic beverage in 2018 and a 2016 study showing that over 40 percent of adults have tried marijuana and one in eight use it regularly.
Used alone, either substance can be used in moderation without significant long-term effects. However, when you mix alcohol and marijuana, they can lead to unpleasant or even dangerous side effects.
The Effects of Alcohol
Wine, beer and spirits all contain alcohol, a chemical that results from fermenting fruit or cereals such as barley and rye. While a small amount of alcohol isn't likely to cause harm, drinking too much—either on one occasion or over an extended period of time—can take a serious toll on the individual's health.
Alcohol is rapidly absorbed into the blood through the stomach and the small intestine. Because it's a depressant, it immediately affects the individual's reaction time, coordination, vision and ability to accurately assess risks and read situations.
When someone drinks an excessive amount of alcohol, their brain function is impaired. Their blood vessels dilate, making them feel warm even as their body is losing heat. They're also at a greater risk of making poor decisions, increasing their likelihood of getting behind the wheel of a car, getting into a fight or doing something unsafe.
The Effects of Marijuana
Tetrahydrocannabinol, or THC, is the main chemical compound in weed that creates a high sensation. Whether it's used for medical or recreational reasons, it has a broad range of immediate and long-term effects on the body.
Within minutes of ingesting weed, the individual likely experiences a sense of relaxation or euphoria. Other common effects include heightened sensory perception (brighter colors, louder noises, etc.), an altered perception of time and an increased appetite.
While many experience pleasant effects from THC, some people experience panic, anxiety, fear or distrust especially if they're inexperienced or take more than they can tolerate.
Over a long period of time, regular marijuana use can affect the individual's physical and mental health. Long-term or heavy use can result in an impaired driving ability due to slow reaction times and poor judgment, symptoms of chronic bronchitis, increased respiratory infections and chronic disorders such as anxiety, depression or schizophrenia.
Need Help?
Treatment can begin quickly and discretely, get started now

Contact Us
What Happens When Someone Smokes Weed and Then Drink Alcohol?
Limited research is available that shows the effects of smoking weed and then drinking alcohol. Some studies indicate that using weed may slow the absorption of alcohol, but the results are debatable.

If weed does slow down the rise of blood alcohol levels, then it's possible that it delays feelings of drunkenness. This can make it difficult for the individual to gauge how impaired they are. As a result, they may end up in a risky situation or use poor judgment, such as driving with a blood alcohol level that is far above the legal limit.
What Happens When Someone Drinks Alcohol and then Smokes Weed?
While smoking weed and then drinking alcohol may slow down alcohol's effects, drinking alcohol and then smoking weed can cause the opposite reaction—alcohol can intensify weed's effect and lead to a stronger high. Particularly among those who don't use marijuana on a regular basis, drinking and then smoking weed can cause intense symptoms such as nausea, sweating and dizziness. In some cases, the individual may experience even more disruptive symptoms such as panic attacks, anxiety or paranoia.

In a small clinical study that was conducted in 2015, researchers studied the effects of combining alcohol with THC. 19 people completed the study, all of whom were regular marijuana users.

Researchers gave some participants low-dose alcohol and other participants were given a placebo. Then all the participants inhaled vaporized low-dose or high-dose THC. Those who had alcohol prior to inhaling THC had higher peak THC levels than participants who had a placebo instead of alcohol. This was true regardless of how much THC they inhaled.

The size of the study makes it difficult to draw any firm conclusions, and a few other studies have failed to duplicate these results. Even so, it provides important insight into how an individual's body may react when they combine the two substances.

It's also important to note that different methods of taking THC affect the body differently. When weed is inhaled, THC is released into the bloodstream very quickly, but if it's ingested in food or drink, it can take longer to feel its effects. Those who are sensitive to weed or who don't have much experience using it may want to avoid mixing weed and alcohol, as they're more likely to experience unpleasant side effects.
Warning Signs of a Bad Reaction to Mixing Weed and Alcohol
Because alcohol can make the high that comes from using marijuana stronger, those who mix the two may be more likely to experience "greening out." Green outs happen when the body's CB1 receptors, or the receptors that control the individual's appetite, memory and bodily functions, become overwhelmed by too much marijuana. Symptoms tend to vary from one person to another, with the most common symptoms including:
Paranoia and anxiety
Lack of mobility or limbs feeling heavy
Dizziness
Inability to focus
Chills or sweats
Increased heart rate
Decreased judgment
Nausea and vomiting
Not everyone experiences green outs, and the symptoms an individual experiences depends entirely on their unique physiology, how experienced they are with using weed and how potent their weed was. In most cases, greening out after consuming weed by itself is unpleasant but not necessarily dangerous, and no deaths have ever been recorded. However, individuals who green out after consuming alcohol and weed may want to seek medical attention, especially if they have respiratory or cardiovascular conditions.

Another danger of mixing weed and alcohol is that because weed slows down the effects of alcohol, the individual may end up consuming far more than they otherwise would. In some people, weed acts as an antiemetic, meaning that it makes them less likely to vomit, impairing the body's most effective way of getting rid of too much alcohol in the system. This can lead to alcohol poisoning, which can lead to death. Common signs of alcohol poisoning include:
Confusion
Seizures
Slow or irregular breathing
Pale or blue-tinged skin
Low body temperature
Unconsciousness
Vomiting
Seeking Help for Addiction
Addiction is serious, and it's important for individuals to know how to recognize the signs of addiction and dependence in themselves or their loved ones. For those who feel like they can't function normally without one of these substances or who combine them on a regular basis for a stronger high, help is available.

At FHE, we specialize in treating all levels of addiction and dependence. Through counseling and innovative treatments, we help clients learn to deal with stressors in a healthy, productive way and train the brain to function properly without using marijuana and alcohol. To learn more about our program, contact one of our admission counselors by calling (866) 750-9829.
Begin your recovery today
Ready to start? More questions about treatment?