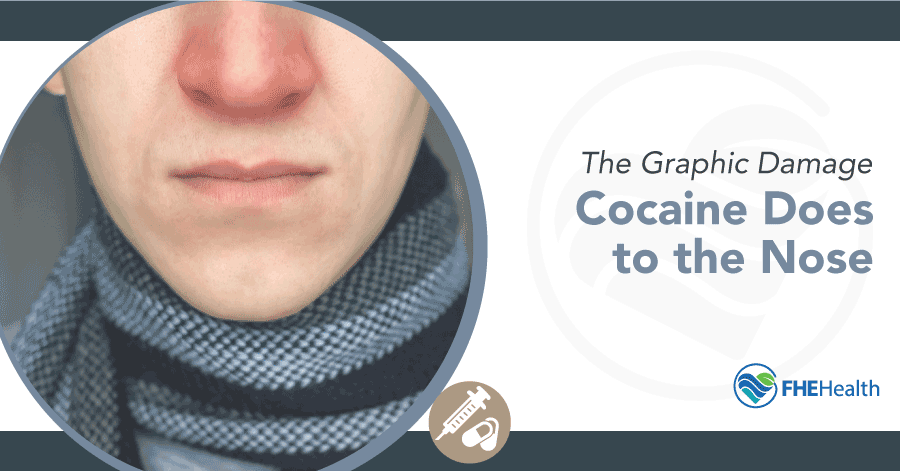 Society has always viewed various drugs and other addictive substances in different lights. Some — crack cocaine, heroin, opiates, methamphetamine — are looked at in a serious light. We consider these drugs to be highly dangerous, and most people view them as substances to stay away from at all costs.
But there's a group of drugs that are looked at as relatively harmless when used in a recreational setting, often to relax or aid the experience of a party or social gathering. Included in this category are marijuana, powder cocaine and synthetic stimulants like MDMA and ecstasy. While all of these drugs are addictive and dangerous to some degree if not used responsibly, one substance stands out: powder cocaine. Why is snorting coke considered to be a normal, routine activity? Is it because it's not dangerous?
In this piece, we'll break down some of the effects that using cocaine can have on the body, including answering what we've found to be a common question: Does your nose heal after using coke?
Public Perception of Cocaine Use
Where does the idea that cocaine is somehow not as serious as heroin, opiates or meth come from? A large part can probably be explained by the popular culture of yesterday and today. In the 1980s, cocaine was relatively new to the scene. It was being trafficked from Central and South America by the metric ton, and it was in fashion as a symbol of status and success. Even examples of media that dealt with the drug's illicit nature made it seem inviting — in Scarface, Al Pacino's Tony Montana briefly leveraged his status in the cocaine industry to live an undeniably glamorous (and enviable) lifestyle.
Snorting coke was normalized by successful businessmen, actors, musicians and other celebrities, and although overdose death is a risk with the drug — actor and comedian John Belushi died of a cocaine overdose in the 1980s — powder cocaine was a symbol of status, wealth and the carefree lifestyle of the rich and famous.
Today, we're more in tune with the dangers of cocaine use, but that doesn't mean it's not still looked at as normal, especially in populations known for partying hard. One study in Addictive Behaviors from 2011 found that a jaw-dropping 36% of college students were offered cocaine at some point during their education and that 13% had used it at least once.
The Physical Effects of Snorting Cocaine
Cocaine can be taken in a variety of different ways, including injection, smoking and snorting (insufflation), but the third method is much more popular than the others. This may be due in part to the population of casual coke users — people tend to use cocaine on a whim at parties or buy it to have a good time on the weekend. Smoking or injecting the drug takes a more concrete commitment, which doesn't hold with the casual nature of snorting coke.
Snorting cocaine (and other drugs) has proven to be an effective way to experience a quick onset of the effects. The nasal passages are lined with blood vessels and are home to mucous membranes that aid in the absorption of cocaine into the bloodstream. This is also why opioid pain medications and other drugs may be crushed up and taken in the same manner.
With cocaine, the substance quickly enters the bloodstream, causes the blood vessels to contract, stimulates the brain and prompts the release of dopamine, which is responsible for the euphoric feelings that make a cocaine high a sought-after experience for users. Most people know that long-term cocaine use can have lasting effects on the brain, but what about in the short term? As it turns out, it doesn't take long for the nose to be at risk.
Possible Damage After Only One Use
The reason we're talking about coke in the context of those who use it infrequently — and may not even use a high enough dose to have to worry about an overdose — is that even people who snort cocaine in moderation need to worry about their health.
A single session of cocaine use can cause nasal blockages, runny nose and loss of sensation in the nasal cavities. Any time you're putting something of unknown origin into your airways, you also run the risk of a potential lung infection, for which you'd need to seek medical treatment.
Typically, though, if you only use cocaine one time, you won't have to worry about your nose healing after coke. Acute symptoms should clear up within a few days.
Early Signs of Nose Damage from Drugs
Every time you snort cocaine, your nasal passages sustain damage. Over time, this damage becomes permanent, but that doesn't mean there aren't risks associated with sporadic, short-term use. Coke constricts the blood vessels in your nose and causes inflammation. Invariably, this repeated inflammation will cause damage to the tissue.
Early signs of cocaine-related damage include the loss of sensation in the nostrils, including a duller sense of smell, a burning sensation in the nostrils and a consistently runny nose. Nosebleeds will become more frequent as the cells in the inside of the nose continue to break down. Increased risk respiratory complications are also present as use becomes more frequent.
Severe Damage from Long-Term Cocaine Use
Over time, the consequences of cocaine have the potential to go from problematic — loss of smell and frequent nosebleeds — to downright grisly. Repeated inflammation is suspected of leading to immune system suppression in that area. This opens the door for fungal and bacterial infections. In fact, a 2015 study in Laryngoscope found that habitual intranasal drug use led to a type of fungal infection that caused the inside of the nose to fall apart, with some patients forming holes in their septums (the tissue that separates the nostrils) or developing necrosis (cell death) in the nasal cavity.
So, Does Your Nose Heal After Coke?
The answer to this question depends greatly on a few different factors, but for the most part, the symptoms can hint to the answer. If the only symptoms you're experiencing are an occasional burning sensation, loss of smell and infrequent nosebleeds, you may only need rest to reverse the damage that has been done.
The longer you continue to use cocaine, however, the higher the chance becomes for permanent damage. When cells (and tissue) dies, there's no going back, and if the inside of your nose is literally falling apart, nothing short of serious, costly reconstructive surgery will return you to normal. Chronic respiratory issues and a permanent decrease in the ability to smell are common in long-term cocaine users.
So what does this mean? For one, it means that even if you're not seeing the impact of habitual abuse now, it's almost a sure thing in the future. The only way to avoid it is to quit altogether. For many casual coke users, this means making a commitment to stop. For other serial cocaine abusers, this may only be possible by way of a structured rehab program. If you or a loved one need to get clean, contact FHE Health today and learn about your options for recovery.